« Pauline was getting better with the Maluna anti-scratch pyjamas at night. The eczema crises were less violent and her skin had time to heal.
She did not longer needed to wear the Maluna pyjamas during the day. But even though her skin got better, there were still some wounds that itched strongly.
So I created the anti-scratch jacket Maluna to protect her skin from scratching.The jacket was more practical during the day. Easy to get off, for lunch or when she was peacful and ocupied by playing instead of scratching.
This allowed us not to lose all the benefit and appeasement of the night from the pyjamas.
While she was eating or was busy playing and exploring the world, she did not think about scratching anymore, and at that moment I took off her jacket.
Thanks to this anti-scratch jacket, we could finally leave the house with something else than pyjamas.
This little jacket helped alot during car trips, no more stress and scratching while i was driving the car.
And i finally brought her to the Kindergarten, i felt safe to leave my daughter with the jacket.
I used to put the jacket in her little backpack and explained everything to the Kindergarten teacher, how do use the jacket and when she has to wear it.
I could finally start to work again, relaxed and confident, because I knew that mittens protected her skin from scratches in case of itching. Everyone was at ease, Pauline,the Kindergarten teacher and of course myself! »
 Description:
Finally, a small anti-scratch jacket that brings true comfort to your baby who suffers from itching due to eczema – day and night!
Your little one can finally play in peace, and family outings will become a real pleasure again.
Even while sitting in a car seat during a long drive, your baby will no longer be able to scratch his eczema patches without you seeing it.
And you don't have to worry that your baby or child will injure himself with the scratching or that his skin will become superinfected!
All this, plus a very cute style!
Maluna clothing can be worn all year round, in summer and winter. The cotton material allows the skin to breathe. Our clothes have the same thickness and quantity of fabric as a T-shirt!
FEATURES
This attractive anti-scratch jacket is produced in soft cotton certified OEKO-TEX CLASS 1, which allows your baby's skin to breathe.
The buttons are nickel-free and also certified OEKO-TEX CLASS 1.
All seams are flat and on the outside to protect the skin from irritation.
The areas that babies with eczema typically scratch, such as the inside of the elbows, are protected by additional patches of material.
The fit of the jacket is loose enough to be worn over a wound dressing, bodysuit or pullover, but just snug enough to prevent friction between the material and the skin.
The logo and care instructions are printed on the outside of the garment. There are no labels sewn inside that could cause itching or irritation.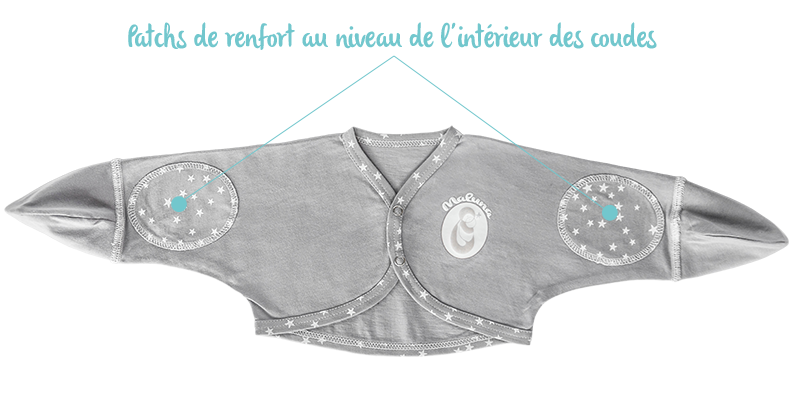 Our models are washable at 60°C for maximum hygiene.
"To prevent the cotton from shrinking, do not dry Maluna clothing in the clothes dryer on high heat."

"To prevent  cotton from shrinking, do not dry Maluna clothing in the clothes dryer on high heat."
Material: 100% cotton
Delivery weight: 180 grams
Package contents: 1 x Maluna anti-scratch baby jacket
Package dimensions: 35 cm x 25.5 cm
Help children fight eczema by sharing this jacket on your socialnetworks !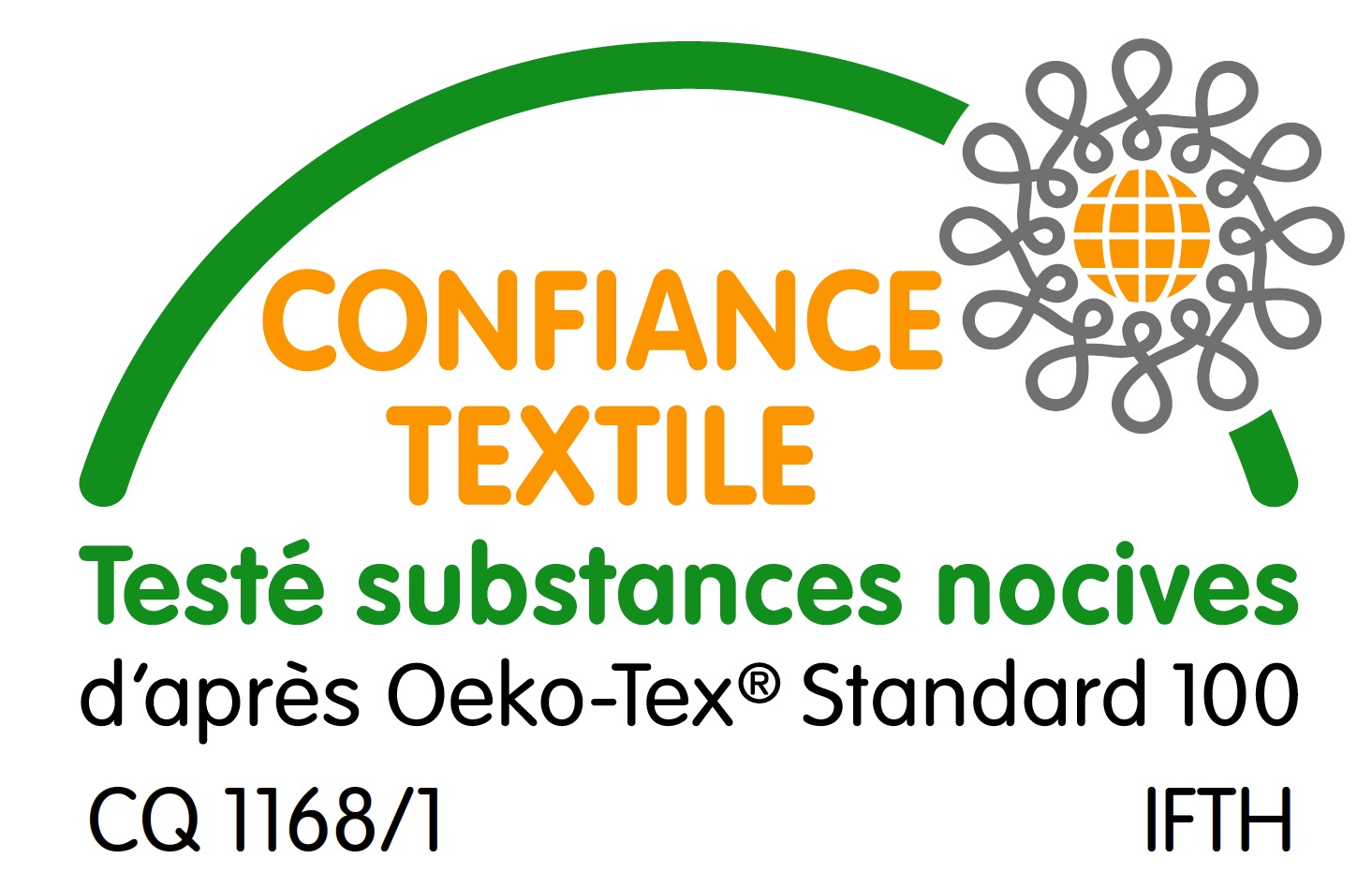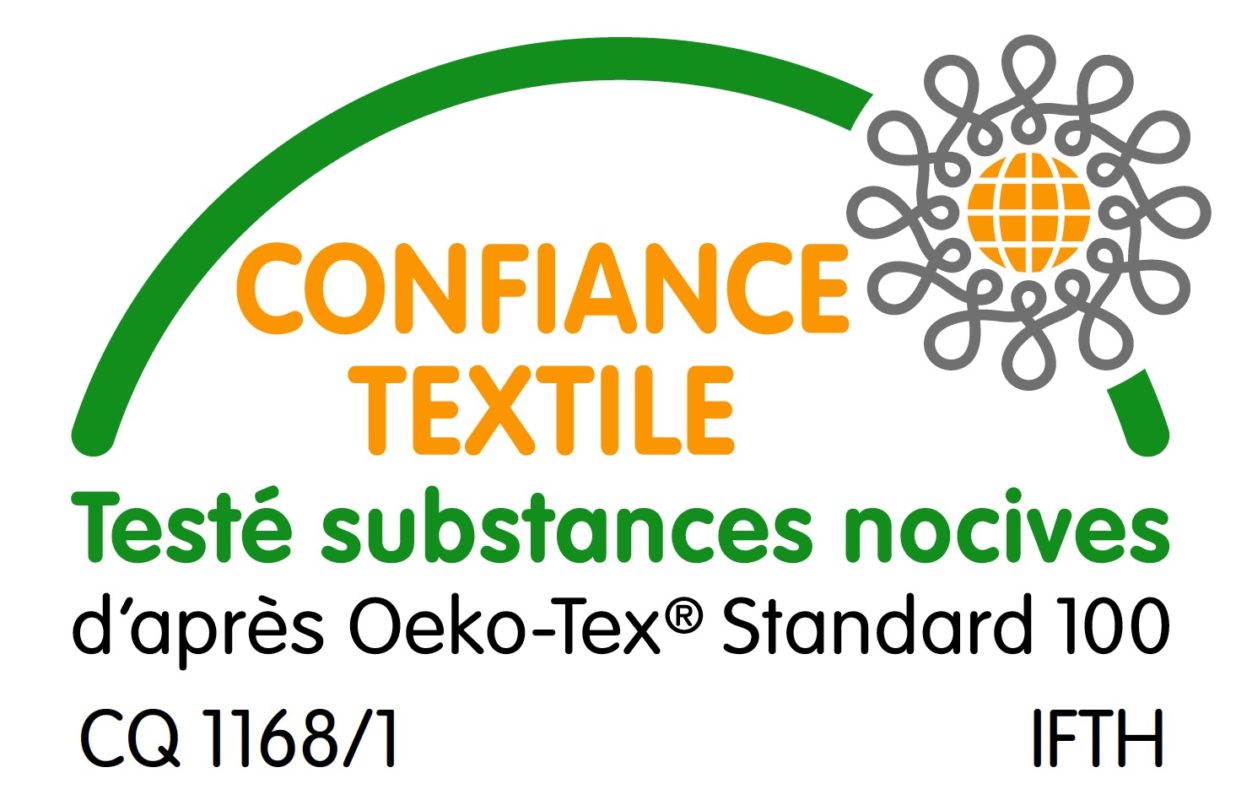 OUR COMMITMENT
Oeko-Tex label Maluna-eczema.com
Maluna clothing is certified OEKO-TEX Standard 100 class 1.
Certification by this independent label means that the raw materials used in production are strictly controlled, eliminating the risk of allergies and irritation and ensuring maximum skin tolerability.
It is a guarantee of comfort and quality for you.
ADDITIONAL INFORMATION
WEIGHT 0.09 kg
Testamonial:
Amelie – May 27, 2017
Excellent and  practical little jacket. At first I was afraid that Tara would be bothered by the mittens, but not at all. She can easily grab her blocks and play while being protected. And I finally feel a bit more relaxed – no need to watch her non-stop!
Amelie