« I spent very stressful nights with my daughter for 2 and a half years.
It was a nightmare! She woke up several times each night because of her eczema. She scratched herself to bleed and started crying due to the pains.
I jumped out of my bed to go and see her, change her clothes, disinfect and dress her wounds, then change the sheets of her bed. Once calmed, I fed her in my arms while singing a song to make her sleep.
Then I went back to bed, for 2 or 3 hours until she starts to scratch again and then I got up one more time to start it all over.
At this time, the only solution was to soothe her just a little so she could sleep a few hours.
It was very difficult! I was so scared that she was scratching her skin in her bed all alone and that her skin will become infected again. I could not sleep anymore quietly, to see my daughter suffering.
I could hear her scratching through the walls! I was worried all the times and ready to jump out of my bed, there was no resting time for our family.
That's why I created the Maluna anti-scratch pyjamas , to protect my child's skin during sleep. Her whole body was now covered, from neck to toes, and she and me felt safe now and ready to sleep peaceful the whole night.
Her skin could heal progressively now.
That would have been impossible without the pyjama that covered her body and her hands.
Night after night, Pauline was getting better and better. Her skin healed and her patches diminished as well as eczema attacks were less and less frequent until disappearing completely during certain periods.
No more superinfections, no more sleepless nights, the whole family slept better at night and fully enjoyed life during the day in  a greater shape! »
Description:
For hygienic reasons, we recommanded that you use a fresh pair of Maluna eczema anti-scratch pyjamas each night.
During flare-ups,, the skin tends to ooze and can also bleed.Therefore strongly advise the same  eczema anti-scratch pyjamas the following night.
When there is no flare-up, the skin tends to be very dry and dander can remain inside the pyjamas.
For these reasons it is important to keep a set of two Maluna eczema anti-scratch pyjamas.The child Can wear one pair while the other is being washed or dried.
Do not forget to turn the pyjamas washing to prevent dander  from collecting inside the feet or mittens.
The Maluna anti-scratch pyjamas  help children with eczema and those who suffers from itching to sleep peacefully, so that they have more energy and are less irritated during the day.
The pyjamas protect the skin by preventing the child from scratching until he bleeds.The pain is often what cause the child to wake up during the night.
Not only will you avoid superinfections, but you will also not need to change the sheets during the night!
Finally, a peaceful night's sleep for you too !
FEATURES
The Maluna anti-scratch pyjamas are produced in a soft cotton certified OEKO-TEX CLASS 1 which allows your child skin to breathe.
All seams areflat and on the outside to protect the skin from irritations.
Lined button placket: in addition to the nickel free buttons we use on our pyjamas, the lining also prevents contact with the skin and reduces the risk of an allergic reaction for even greater sleeping comfort.
The hands and wrists have added protection with mittens made of two layers of material to keep your child's nail away from the skin.
Lined socks provide extra protection for the child'sfeet, an area that is prone to skincracks due to eczema, especially at the ankles.
Folded rear opening The pyjamas have a fold in the fabric at the rear opening, forming a pocket that prevents the child from sliding his hand inside the pyjamas.
The areas that children with eczema typically scratch, such as the inside of the elbows, are protected by additional patches of material.
The fit of the pyjamas is loose enough to be worn over a wound dressing, bodysuit or pullover, but just snug enough to prevent friction between the material and the skin.
The logo and care instructions are printed on the outside of the garmentThere are no labels sewn inside that could cause itching or irritation.
Le pyjama anti-grattage Maluna est réalisé dans un doux coton certifiés OEKO-TEX CLASS 1 qui laisse respirer la peau de votre bébé.
Toutes les coutures sont à l'extérieur et aplaties pour préserver la peau des irritations.
Patte de boutonnage doublée : même si nos boutons de pyjama sont sans nickel, la doublure évite le contact avec la peau et ainsi une éventuelle réaction allergique pour toujours plus de confort pendant le sommeil.
Les mains et les poignets sont doublement protégés avec des moufles de deux couches de tissus pour que les ongles de votre enfant ne puissent pas atteindre la peau.
Les chaussons doublés apportent une double protection aux pieds de l'enfant, un endroits typique ou l'eczema provoque des cassures de la peau, spécialement aux niveaux des chevilles.
Ouverture arrière du pyjama avec retour de tissus : nous avons créé un retour de tissus qui ajoute une poche au niveau de la fenêtre du dos qui empêche l'enfant de glisser la main à l'intérieur du pyjama.
Les endroits classiques de grattage dû à l'eczema comme l'intérieur des coudes sont protégés par des patchs supplémentaires en tissus.
La coupe du pyjama est ample pour pouvoir mettre un pansement ou un body/pull en dessous, mais pas trop large non plus pour éviter les frottements des tissus sur la peau.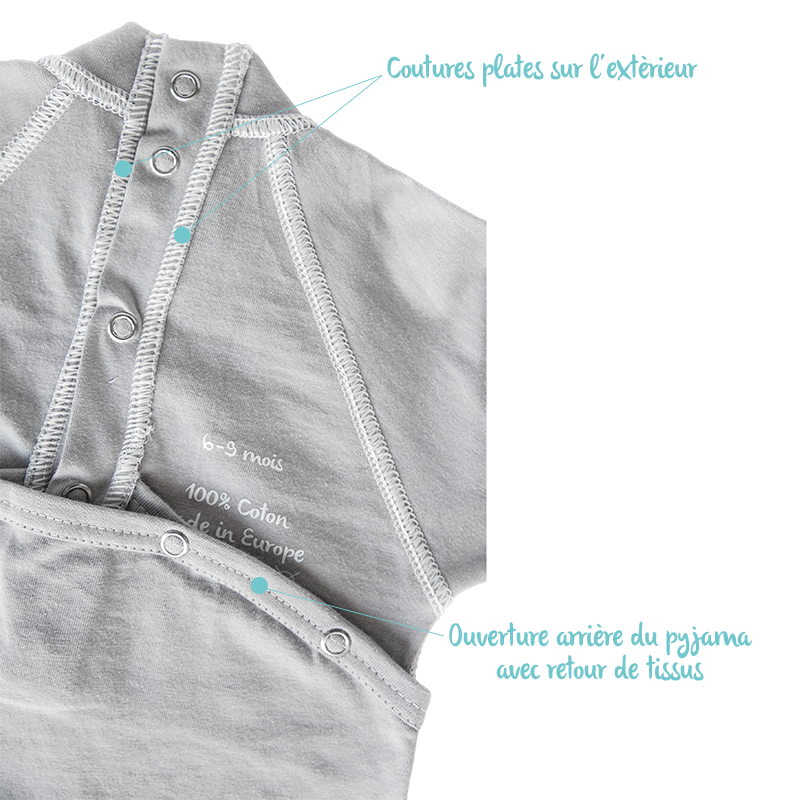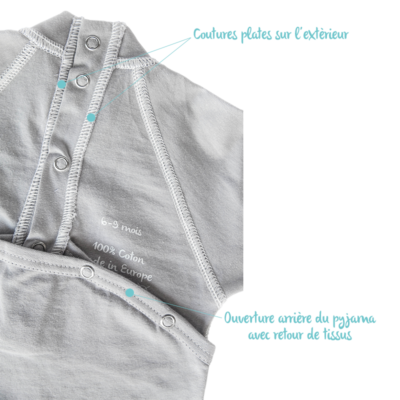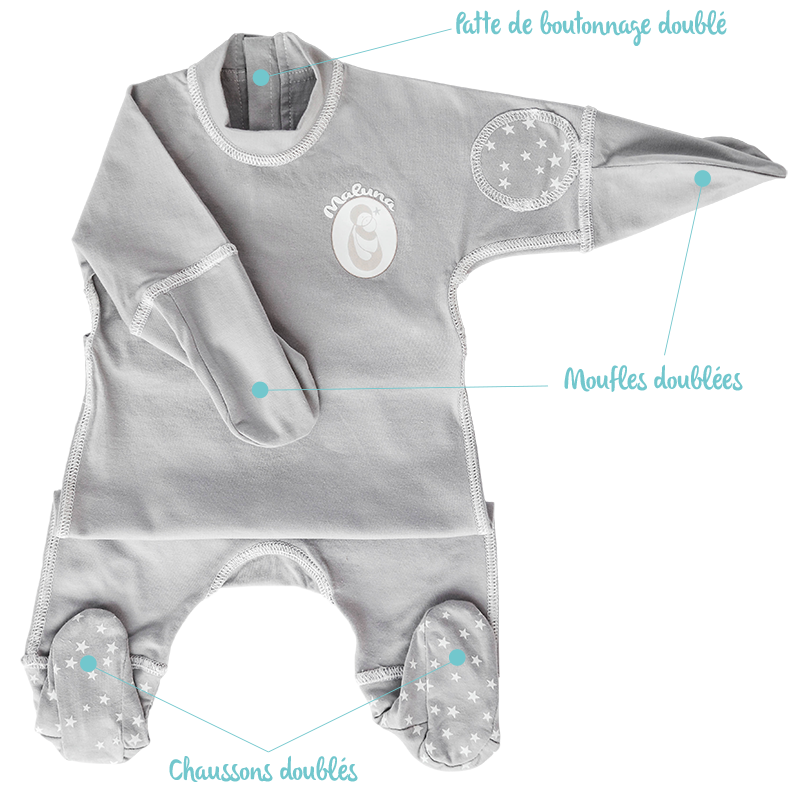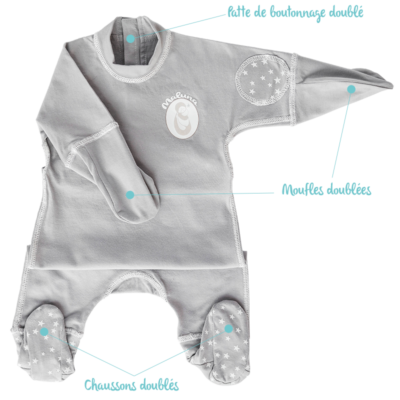 Le logo et l'étiquette de lavage sont imprimés à l'extérieur du vêtement afin qu'il n'y ai pas d'étiquettes cousues à l'intérieur qui provoqueraient des démangeaisons ou des irritations.
Our models are washable at 60 ° C for maximum hygiene.
"To prevent the cotton from shrinking, do not dry the Maluna clothing in the clothes dryer on high heat. "

"To prevent the cotton from shrinking, do not dry the Maluna clothing in the clothes dryer on high heat."
Material: 100% cotton
Delivery weight: 180 grams
Package contents: 1 x Maluna anti-scratch children-pyjamas
Package dimension: 35 cm x 25,5 cm
Help children fight Eczema  by sharing these pyjamas on your socialnetworks!
MALUNA COMMITMENT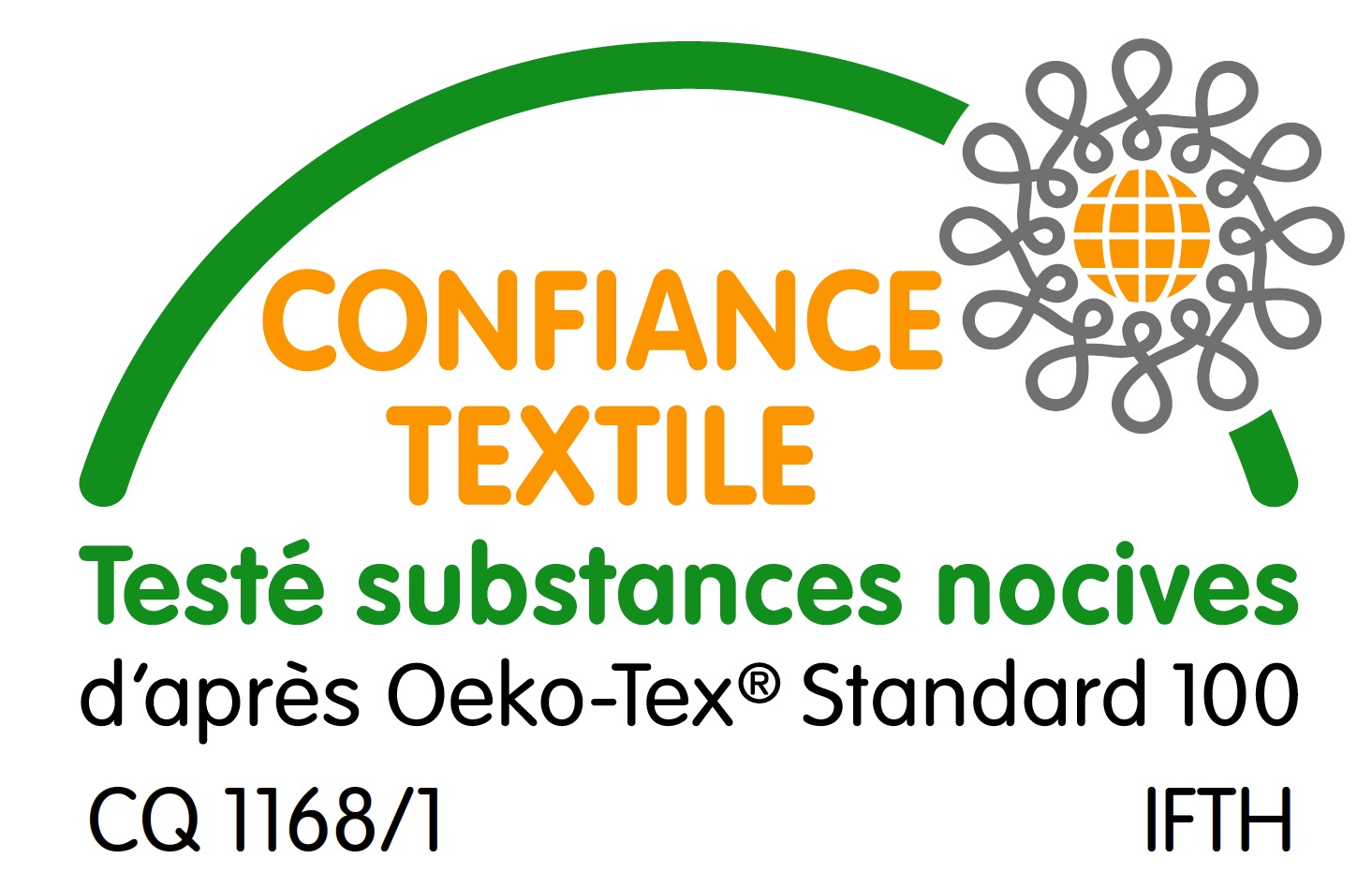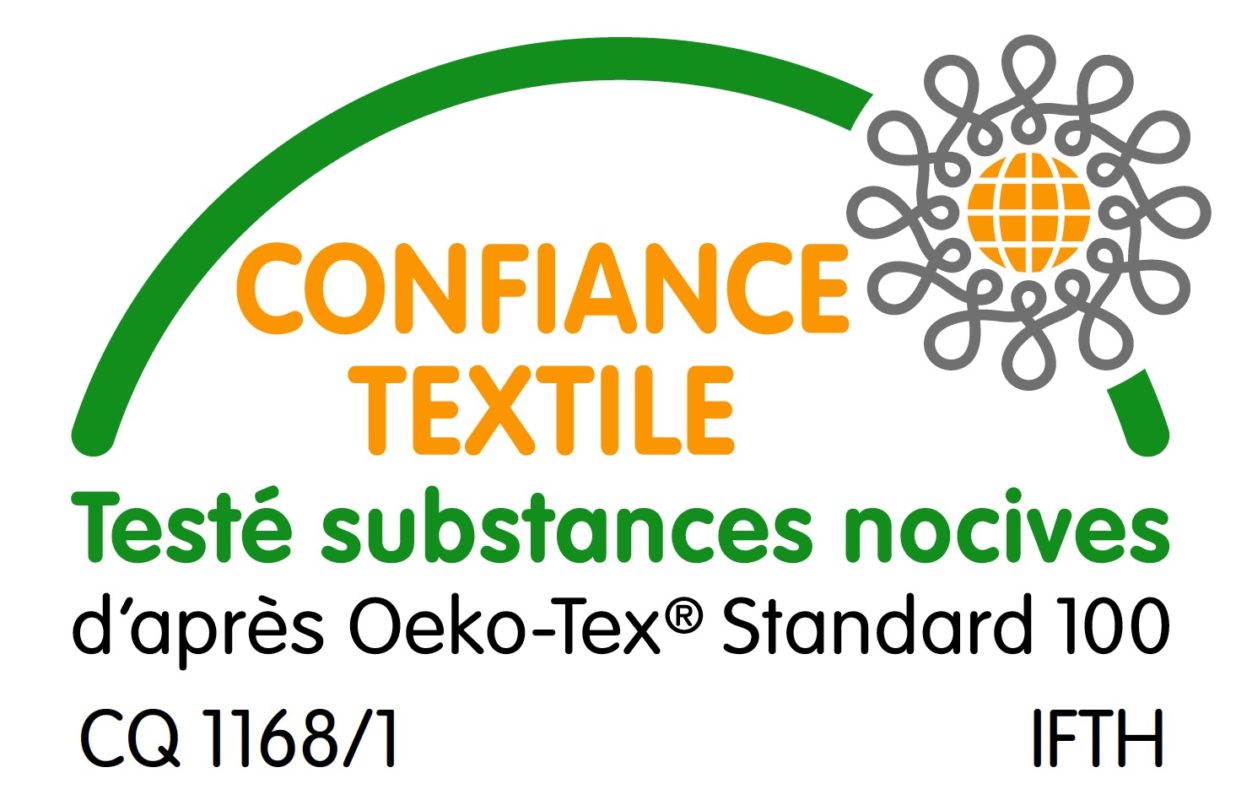 Maluna clothing is certified OEKO-TEX Standard 100 class 1.
Certification by this independant label means that the raw materials used in production are strictly controlled, eliminating the risk of allergies and irritation and ensuring maximum skin tolerability.
It is a guarantee of comfort and quality for you !
ADDITIONAL INFORMATION
WEIGHT 0.360 kg